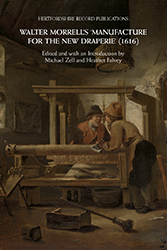 Volume XXXIV, Walter Morrell's 'Manufacture for the New Draperie' (1616)

Early in the reign of James I, Walter Morrell arrived in Hatfield with a wonderful scheme that promised to transform the lives of England's idle poor. He needed to convince Robert Cecil, 1st earl of Salisbury, that he could train unemployed youths to make 'new draperies' – a range of woollen textiles – thereby supporting themselves and also reducing the cost of poor relief. 'Setting the poor on work' had been a theme of English social policy since the 1570s. 'Projects' to do just that had been suggested before, but Morrell's project was more convincing than most: by 1609 he had won over not only Cecil, but also most of the Privy Council. They believed that his scheme could both help to reduce rural unemployment and, by increasing textile exports to Europe, boost royal revenue.
This volume publishes the complete text of Morrell's 100-page explanation of his project, written to coincide with the award of a royal charter establishing a monopoly new draperies company for Hertfordshire, in early 1617. Morrell's Manufacture is a fascinating mixture of detailed economic calculation and social argument, combined with the remarkable story of its author's persistence and zeal to 'improve' the English commonwealth. His text includes copies of letters and petitions that demonstrate how he had fought to win over the king's advisors. But he still had to convince Hertfordshire's gentry to invest in the project, for without 'adventurers', the Company would have no capital.
An appendix of original documents covers the period leading up to the charter's grant in 1617, and extends into the following decade. They illuminate Morrell's activities before the charter was granted; attempts to extend his scheme to several towns beyond Hatfield; and the sceptical reaction of the majority of the county's magistrates and landowners. Two detailed introductory chapters discuss Morrell, his project and his book, and efforts to establish new drapery production in other Hertfordshire towns.
This is the Hertfordshire Record Society's volume for 2018/19.
Edited by Michael Zell and Heather Falvey
xl + 181 pages
9 illustrations, 1 map, plus illustrated jacket
ISBN 978-0-9501741-0-5
Non-Members: £22 • Members: £17.50
(+£3.50 P&P)
Order Form