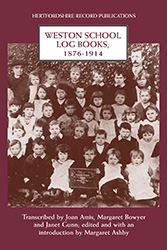 Volume XXX, Weston School Log Books, 1876-1914

Weston National (Church of England) School was founded in 1847, when the first pupils were taught in a house near the church. By 1856 a purpose-built school was in operation, with separate provision for infants and older children. From the beginning the head-teacher was required to keep registers and daily log books. The latter recorded attendance, lessons taught, examinations and any other matters relevant to the children's education.
On the night of 14 January 1883 the school buildings, and almost all their contents, were burnt down. One log book survived but most other records were destroyed. For the next three months classes were held in temporary accommodation, but the school was rebuilt extremely quickly and re-opened on 1 May 1883. Log book entries were resumed and continued in the same hand-written format until the 1950s.
The transcriptions in this volume begin with the earliest surviving log-book, from 29 May 1876 and continue to the outbreak of the First World War in August 1914. The entries reveal vivid glimpses of school and village life over nearly 40 years: the dedication of staff; the pupil-teachers, without whom the school could not function properly; the generosity of school visitors in providing treats and prizes; the hardships imposed by bitter winter weather; the suffering caused by illnesses for which there was then no known cure; and the occasional mystery, such as the events of winter 1882-3.
This is the Hertfordshire Record Society's volume for 2014/15.
Transcribed by Joan Amis, Margaret Bowyer and Janet Gunn; edited and with an introduction by Margaret Ashby
xv + 415 pages
6 illustrations, coloured plan of the village on endpapers, plus illustrated jacket
ISBN 978-0-9565111-3-3
Non-Members: £22 • Members: £17.50
(+£3.50 P&P)
Order Form