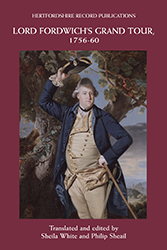 Volume XXXI, Lord Fordwich's Grand Tour

In January 1757 George Nassau Clavering-Cowper left England to undertake his Grand Tour of Europe. Styled Viscount Fordwich, he was 18 years old and heir to an earldom. In most cases a young gentleman's Grand Tour took about a year, Lord Fordwich's lasted three. The first two years were spent at the renowned Academy in Lausanne. Then in April 1759 he set out on a trip which took him through the Rhineland, Bavaria and Austria, then south to Italy. By June he had arrived in Venice, from where he travelled on to Padua, Bologna, Florence, Lucca, Pisa, and Siena. He then spent a month in Naples and another six weeks in Rome. While in Florence he fell passionately in love with a beautiful Florentine lady known as the Marchesa Corsi. The tour was due to finish in December 1759, whereupon he would depart from Rome for England. Young George, however, was in the unusual position of having the means and freedom to indulge his desires, and so he headed back to Florence. His passion for the lady eventually burnt itself out, but by then he was thoroughly embedded in the cultural and social life of Florence, and kept on postponing his return to England. The 2nd Earl Cowper died in September 1764 without ever having seen his son return home. Apart from one short visit to England in 1786, the 3rd Earl Cowper remained in Florence until his death in 1789.
There are two major sources of information for the Grand Tour: firstly, a journal compiled by Jean Chastellain, Lord Fordwich's Swiss 'governor', covering the whole tour from January 1757-May 1760; secondly, a set of detailed financial records, again compiled by Chastellain, which also covers the entire period. Chastellain's journal makes no mention of George's tempestuous affair with the Marchesa Corsi; however, these matters were dealt with in some correspondence between Chastellain and the 2nd Earl Cowper. These letters have also been investigated, therefore, together with later correspondence between George and members of the Chastellain family. The journal, financial records and correspondence were all written in French, and the task of transcribing, translating and editing this material has been undertaken by Sheila White and Philip Sheail.
This is the Hertfordshire Record Society's volume for 2015/16.
Translated and edited by Sheila White and Philip Sheail
viii + 401 pages
6 coloured and 22 black & white illustrations, 15 maps, plus illustrated jacket
ISBN 978-0-9565111-4-0
Non-Members: £22 • Members: £17.50
(+£3.50 P&P)
Order Form