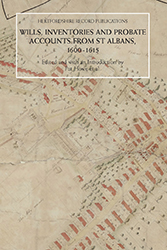 Volume XXXII, St Albans wills, inventories and probate accounts, 1600-1615

In 1993 the HRS published Volume IX, St Albans Wills, 1471-1500, edited by Sue Flood (now out of print). More than two decades later, we return to St Albans to delve once again into its rich probate material. Moving forward a century, Volume XXXII will comprise wills and inventories from the period 1600-1619.
Testators from this important urban centre include gentlemen, yeomen, husbandmen, widows, craftsmen, tradesmen and retailers, such as inn-keepers and grocers. More unusual occupations include a bottle-maker (Richard Bull), a coverlet weaver (John Hodgkinson), a chapman (John Palmer), and a musician (John Streete). The inventory of Thomas Camfeild, shoemaker, gives the contents of his shoe shop, with shoes itemised in sizes; that of Robert Woolley, draper, provides names of numerous fabrics and their costs. Values of the probate inventories vary widely indicating great contrasts in wealth at the time of death. The volume will have an introduction setting the documents in the context of early modern St Albans and analysing their contents to demonstrate what they disclose about life (and death) in the town at that time.
Most of the original documents are held in the Hertfordshire Archives and Local Studies, but a few of the wills are held in The National Archives. They have been transcribed and edited by members of the St Albans 17th Century Research Group, led by Pat Howe.
Publication expected 2019
Order Form