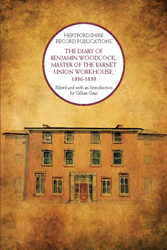 news
Latest News
Owing to the covid-19 pandemic, the two most recent AGMs were held remotely via Zoom: the 2021 AGM was held on Saturday 19 June and the 2020 AGM on Tuesday 17 November.
On Saturday 9 November 2019 at the symposium of the Hertfordshire Association for Local History, held at Woolmer Green, we launched Volume XXXII, St Albans Wills, Inventories and Probate Accounts. The 2019 AGM was held on Saturday 8 June at in the Mill Bridge Rooms, Hertford.
The 2018 AGM was held on Saturday 9 June in the Van Dyck Room at Hatfield House; the meeting was followed by the launch of Volume XXXIV.
---
Our website has been updated, we appreciate any comments you may have on the new look. Please e-mail: info@hrsociety.org.uk.
If you have a news story related to the history of Hertfordshire, please e-mail us and we'll post it on this page.
previous newsletters
Follow the link to download a copy of our annual newsletter. Available in both PDF and Word format.