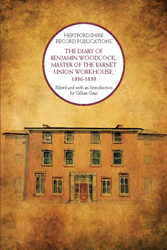 news
Latest News
On Saturday 21 November at the symposium of the Hertfordshire Association for Local History, held at Wheathampstead, we launched Volume XXXI, Lord Fordwich's Grand Tour.
The 2015 Annual General Meeting was held on Saturday 13 June at Bramfield Village Hall, when Volume XXVI, The diary of John Carrington, farmer of Bramfield, was launched.
Volume XXIX, Records of the Manor of Norton, was launched on Saturday 9 May 2015 at the Spring Meeting of the Hertfordshire Association for Local History.
---
Our website has been updated, we appreciate any comments you may have on the new look. Please e-mail: info@hrsociety.org.uk.
Annual Newsletters produced since 2003 are now available online (see below). A page dedicated to our special map publications has been included in the publications section.
If you have a news story related to the history of Hertfordshire, please e-mail us and we'll post it on this page.
previous newsletters
Follow the link to download a copy of our annual newsletter. Available in both PDF and Word format.