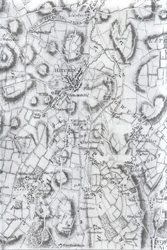 Special Publication:
'Topographical map of Hartfordshire' (1766) by Dury and Andrews
This map is the main utilitarian map for those seeking to research the landscape and buildings of the county as they existed before 1766. It was one of the earliest of the large-scale maps (one mile to 1.95 inches) of the county to appear, and one of the most accurate. There is a brief introduction with biographies of the map-makers and a description of how they produced the map. All place names and personal names that appear on the map have been fully indexed. It has been published as a set of nine sheets and comes in an A4 folder.
Edited by Susan Flood, Richard Busby, David Dean and Alan Ruston
Non-Members: £9.50 • Members: £8.50
(+£3.50 P&P)