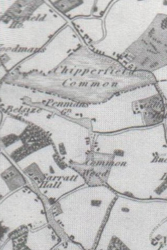 Special Publication:
Bryant's Map of Hertfordshire (1822)
This finely drawn county map has been reproduced in four sheets and comes in a A4-sized presentation folder. The map has details of the county's old parish boundaries, the larger country houses with their parks and gardens, the major roads and rivers and woodlands as well as settlements, both large and small. The map has been fully indexed and there is an description of its production by Bryant in 1822.
Edited by Susan Flood, Richard Busby, David Dean and Alan Ruston
Non-Members: £8 • Members: £5
(+£3.50 P&P)