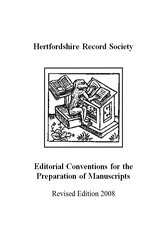 Special Publication:
Editorial Conventions for the Preparation of Manuscripts
This pamphlet, written by the Society's current and previous General Editors, provides helpful guidelines for anyone in the process of preparing historical documents for publication. It includes sections on punctuation, abbreviations, layout, spelling, indexes, numbers, money, dates, insertions/deletions, illustrations, tables and charts, bibliographical citations, glossaries and submitting text on disk.
Written by Susan Flood and Richard Busby
Revised by Jane Walker.
£2.50 (Free P&P)