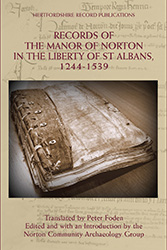 Volume XXIX, Records Of The Manor Of Norton In The Liberty of St Albans 1244-1539

translated by Peter Foden and an Introduction by the Norton Community Archaeology Group
The medieval court books of the manor of Norton comprise a remarkable sequence of records which runs from 1244 to 1460, with only six missing years. They have been translated for this volume and assembled with the surviving rolls from the post-1460 period up to the dissolution of St Albans abbey.
In about 1350 the administrators of the abbey's estates began to copy their manorial court records into books because the originals had become increasingly difficult to consult in matters of precedent. Although court books have survived from a number of the abbey's other manors, such as Barnet, Hexton and Codicote, those of Norton comprise the longest series. Like manor courts elsewhere, in the medieval period Norton's manor court had a range of responsibilities including the maintenance of local law and order. As well as the punishment of minor misdemeanours, the court's records show not only transfers of land holdings, but also the performance of feudal obligations. Most of the characters who appear in the records were ordinary working people and so these documents give us an insight into the lives of people who might otherwise not feature in the historical record.
As addition to an analysis of the manor, including its agricultural system and produce, the Introduction provides brief biographies of some of the tenants. It also discusses population trends; the roles of women and children, the church and the clergy; and relations with the emerging town of Baldock. Perhaps most intriguingly, through analysis of the incidence of fines and amercements, the records chart the gradual demise of the feudal system.
The NCAG, which has over 150 members, was established in 2006 to investigate the archaeology of the historic parish, now part of Letchworth Garden City. The Historical Documents section of NCAG, a group of about 20 contributors, has written the Introduction and compiled indexes of places, persons and subjects. Funded by generous grants from the Letchworth Garden City Heritage Foundation, the Heritage Lottery Fund and North Hertfordshire District Council, the records have been translated by Peter Foden.
This is the Hertfordshire Record Society's volume for 2013/14 and will be available in May 2015.
translated by Peter Foden, with an Introduction by the Norton Community Archaeology Group
lxiv + 360 pages, fully indexed
12 illustrations, plus illustrated jacket and endpapers
ISBN 978-0-9565111-2-6
Non-Members: £22 • Members: £17.50
(+£3.80 p&p )